2023-2024 College Catalog
2023-2024 College Catalog
---
The Catalog applies to students entering or returning to National Park College in the 2023-2024 academic year.
Catalog Contents
College Policies 
---
If you have further questions, please email catalog-support@np.edu
---

Disclaimer: This catalog applies to new students entering National Park College in the 2021-2022 academic year and returning NPC students whose governing catalog has expired. Students with specific questions about this policy should see the Registrar or other appropriate academic administrator.

Every effort has been made to assure the accuracy of the information in this publication. Students are advised, however, that any requirement or provision of this catalog may change without notice at any time. Therefore, current or prospective students should verify the accuracy of information in this catalog with a College official.

The contents of National Park College catalogs do not constitute an irrevocable contract between any current or prospective student and the College. Further, the College is not responsible for any misrepresentation of its requirements or provisions that might result from errors in the preparation of its catalogs. The College reserves the right to add, amend, or repeal any rules, regulations, policies, and procedures as provided by law. Finally, the College catalog shall not be considered as an abridgment or limitation of any rights, powers, or privileges of the Board of Trustees.

 
---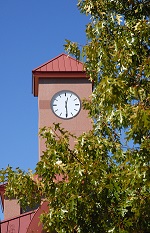 Learning is our focus; student success is our goal.

National Park College     101 College Drive     Hot Springs, AR 71913     501.760.4222     844.806.8752
---